2-4 July 2015:
3rd INTERNATIONAL CONFERENCE on
Sustainable Solid Waste Management
Tinos Island, Greece
Conference Topics
Topics of interest include but are not limited to:
Source separation schemes for solid waste
Biological treatment techniques (composting & anaerobic digestion)
Recycling
EU policies and strategies for solid waste management
Solid waste prevention techniques
Socio-economic issues related to solid waste management
Household solid waste treatment technologies
Household solid waste collection techniques
Integrated management in islands & other isolated areas
Characterization of waste residues
Energy from Waste (biomass, oil sludge, syngas, etc.)
Decision support tools in the waste management field
Management of specific waste streams
Publication in Journals
Τhe best Tinos 2015 papers will be published after evaluation in a Special Issue of JOURNAL OF ENVIRONMENTAL MANAGEMENT in collaboration with Prof. Petros Gikas, Associate Editor of the Journal, in a Special Issue of WASTE AND BIOMASS VALORIZATION in collaboration with Prof. Ange Nzihou, Editor of the Journal & Prof. Maria Loizidou, Head of the TINOS 2015 Scientific Committee & in WASTE MANAGEMENT & RESEARCH in collaboration with Prof. Costas Velis, Associate Editor of the Journal.
Previous Conferences
ISWM-TINOS
ISWM-TINOS is a LIFE + Environment Policy and Governance Project co-funded by the European Commission. The duration of the project is 46 months starting on the 1st of October 2011. The implementation of the project takes place in Tinos Island, Greece under the coordination of the Municipality of Tinos and with the cooperation of the National Technical University of Greece, the Università degli Studi di Verona and the Institute for Solid Fuels Technology and Applications of the Centre for Research and Technology Hellas.
The main objective of ISWM-TINOS project is the development and evaluation of an Integrated Solid Waste Management scheme for solid waste in Tinos in line with the Waste Framework Directive 2008/98/ΕC. The ISWM scheme includes the separate collection of each type of recyclable (glass, metal, paper, plastic) as well as of biowaste (mainly kitchen waste) and the subsequent treatment of the collected biowaste with aerobic treatment (composting). The pilot scheme has been set for a sample of 100 households located in Tinos Island. Furthermore, the anaerobic digestion of the biowaste is investigated at the experimental hall of the University of Verona in Treviso (Italy) with "synthetic" biowaste of the same characteristics with the biowaste collected in the Municipality of Tinos.
LIFE+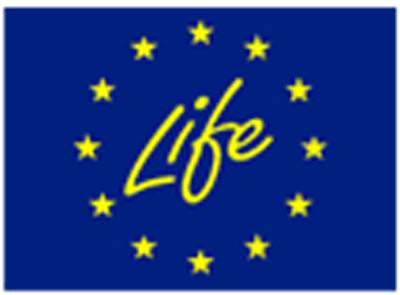 LIFE10ENV/GR/610: Development and implementation of a demonstration system on Integrated Solid Waste Management for Tinos in line with the Waste Framework Directive.
We would like to thank you very much for your high interest in the TINOS 2015 Conference.